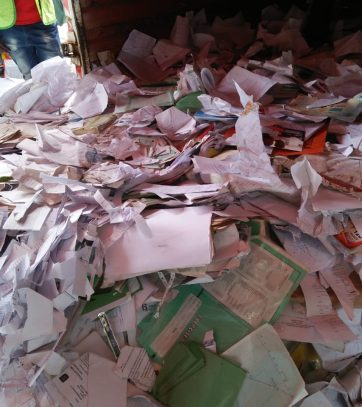 ABOUT COMPANY
Welcome to XPrint Kenya
We do waste paper collection from institutions and individuals who would like to dispose off their past records, office waste, examination papers from learning institutions and examining bodies in a safe and environmentally friendly manner.
our services
What we do for you and your business
Waste Disposal
As part of contributing to cleaner environment, Xprint has a good reputation of offering a convenient waste paper disposal services to our customers at comfort of their office. This saves our customers time as well as helping them generate revenue from their waste which is disposed in an environmental friendly manner through recycling. In addition, recycling of paper to other usable products such as napkins and kraft liner for packaging enhances a circular economy and saves our trees for future generations
Paper Shredding
Xprint Waste Paper Handlers offers assisted shredding of sensitive office waste paper material in your office and eventual disposal in an environmental friendly manner at a discounted rate.
Confidential Document Destruction
We understand that some documents contain private/confidential information which requires strict and complete destruction/conversion to safeguard the information contained therein. We offer on-point destruction as well as supervised destruction of such material as per the customer's requirements. We also give a certificate of destruction at the end of destruction process
Waste paper disposal services
Our document secure destruction & shredding service reduces costs and increases protection of your confidential business records.